Retour
Tinos
Where to stay
We couldn't recommend any place more than our friends' charming Airbnb. Only a 5 minute scooter ride away from the harbor, it is ideally located, with a gorgeous view over the sea. 2 lovely bedrooms and bathrooms, and only a flight of stairs away from the prettiest little creek.
Where to eat
Food lovers, Tinos will make you happy! Famous for its delicious typical cuisine and restaurants, seafood, wild artichokes, capers, and thyme honey, it's a unique experience for any foodie.
During our visit in June, we loved that we never had to book a restaurant and could follow our hearts, show up and eat directly. This kind of spontaneous slow living vibe is becoming quite rare, and it really makes Tinos the perfect place to slow down, relax, and eat well!
Here's a list of our coups de coeur:


To Thalassaki
Maybe our favorite restaurant on the island. A creative cuisine full of flavor, a beautiful seafront spot where you can enjoy your meal watching the sunset over the sea.
O Ntinos
With a view over the Giannaki bay, O Ntinos is also a must! We highly recommend the schrimp pasta or lobster.
Tsampia
A super authentic, tiny greek restaurant, only a few steps away from Agios Markos Bay House.
Marathia
Considered to be one of the best restaurant on the island, Marathia is another beautiful beach spot.
We didn't get the chance to try them, but Tarsanas and Mikro Karavi were also on our friends' check list!
Now if you just want to grab a quick bite or a drink, here are a few cool spots we enjoyed :
Έδεσμα'
Delicious Gyros to takeaway and eat in the harbor. A great easy alternative if you don't feel like cooking or going to the restaurant.
Prickly Bear
A small Coffee place in the harbor that makes excellent coffee and sandwiches.
Santiago
A super nice bar to have a drink in the port of Tinos.
Mayou
When visiting Isternia, make sure you stop by Mayou Bar. The view is simply breathtaking.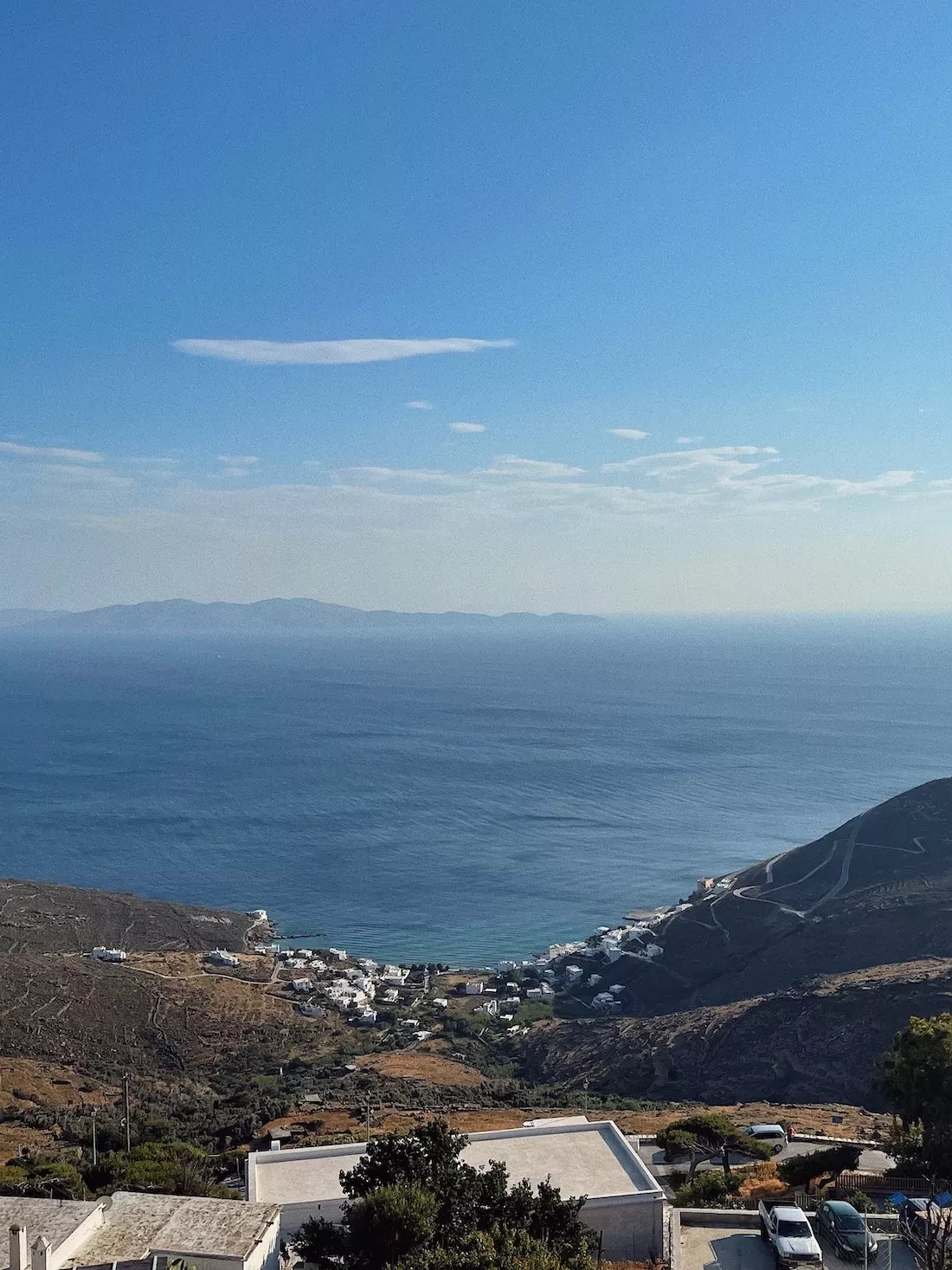 Where to go
Our advice: take a scooter or a car, and go get lost around the island! You can stop in each small village, walk around, grab a coffee and enjoy the amazing view. Isternia and Kardiani are two particularely beautiful, typical greek villages by the sea. White houses with blue wooden shutters, empty narrow streets, just stroll around for a few minutes and enjoy the landscape. Pyrgos is the same kind of village, but hidden in the hills inland. Famous for its marble, you'll see beautiful sculptures and marble details all around. Grab a Greek freddo on the main square and let yourself get absorbed by this magical place.
Beaches in Tinos are a dream. Cristal clear water, wild nature and quietness. We almost went around all the beaches on the island, and our favorite were of course the most secret ones:
Kalivia
Our favorite beach of them all! Very windy but super quiet (we were basically alone there). There's a very nice beach bar to buy drinks and a greek salad for lunch. De-li-cious.
Kolympithra
A surfer's spot with a cool beach bar. Perfect to spend the day or enjoy a drink on a late afternoon.
Agios Markos
The secret little creek right at the foot of our airbnb. It's nicely sheltered from the wind, with blue waters and natural shade from the trees.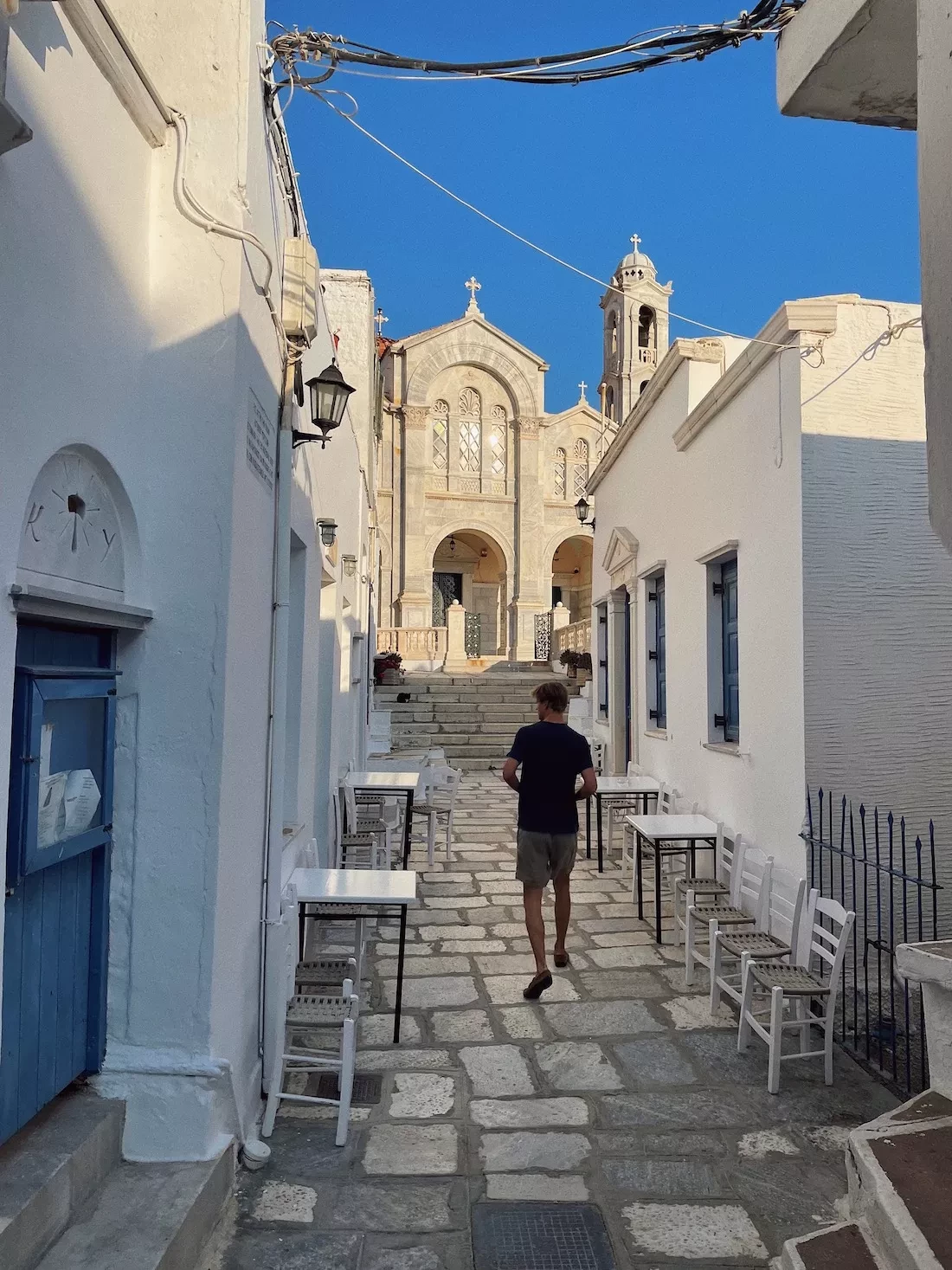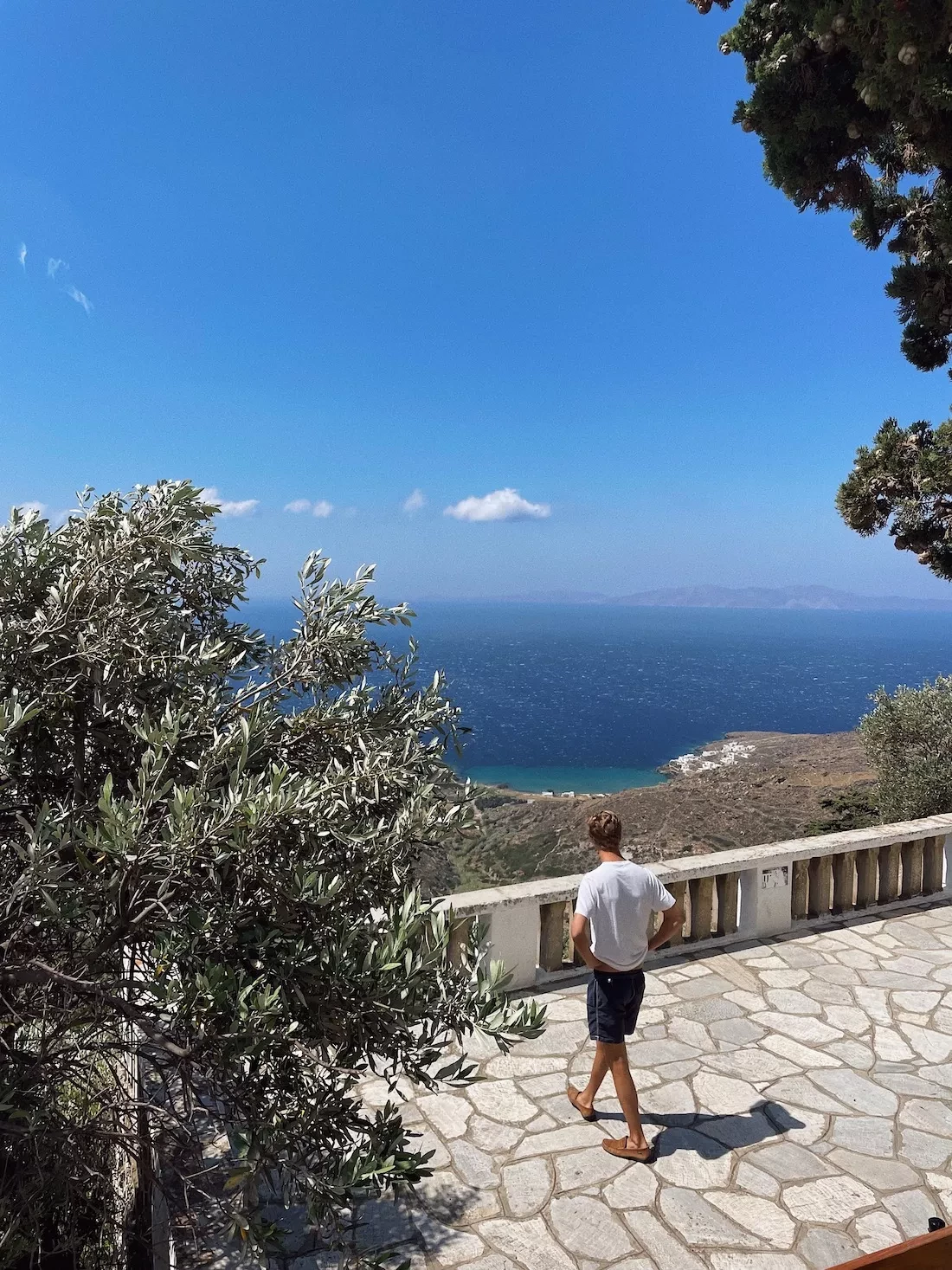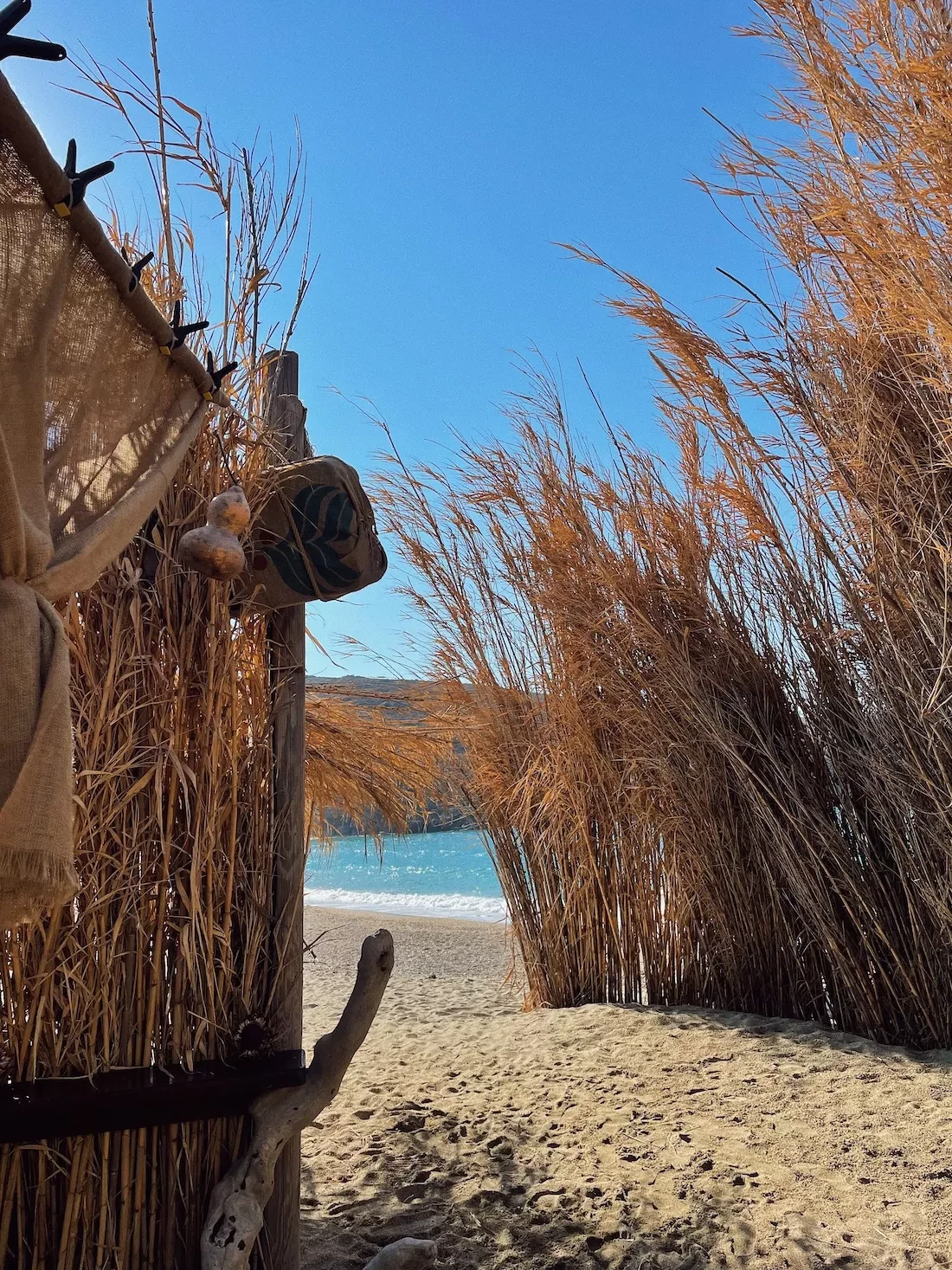 Where to shop
Want to bring back souvenirs? There are plenty of cute little shops full of local treasures around the port of Tinos. You'll find small pieces of furniture and decoration with a holiday home vibe, authentic accessories and nice swimwear and beachwear.
Don't miss Karybu and Katsika for home decoration, and the concept store Trela.
Foodies, there's a daily food market in the port. The perfect place to stock on pickled artichokes, capers and thyme honey to bring a taste of the cyclades back home.