Return
Île de Ré
If you've known Bamboo for a while, you know we have a special love for islands, and Île de Ré makes no exception.
It's hard to believe this magical place is just a 7 hours drive from Brussels. It's so easy to reach yet it feels like a different world, so protected and unique. The villages are incredibly beautiful with their white houses with blue or green wooden shutters. The whole island has kept its charming authenticity. It isn't crowded, even in high season, and the temperatures stay very nice in the summer: a little corner of paradise.
We also love that Île de Ré is small enough so you can just park your car somewhere and do everything by bike! It gives the holidays a whole different vibe: slower, healthier. Despite the intimate size, the landscape is full of surprises. Expect salt marshes, vineyards, oyster farms, beautiful beaches and the prettiest villages!
There's so much to do and see, here's a list of all our favorite addresses on Île de Ré.
Hotel Le Sénéchal
Hotel Le Sénéchal
Where to stay
Hotel Le Sénéchal in Ars-en-ré : In addition to being incredibly charming, Le Sénéchal is centrally located, which makes it a perfect starting point to go anywhere by bike. We loved the warm welcome, the tasteful and authentic interior design and the peaceful garden at the back.
Hotel L'Océan à Bois-Plage : Also ideally located right in the center of the island. It's a very nice place to stay and quite friendly budget-wise.
La Maison du Vigneron: a super charming typical old house with 2 bedrooms full of character.
What to do
You got it: the best way to visit Île de Ré is by bike! The island is almost completely flat which makes it a super pleasant ride. Cycle through the salt marshes, visit all the little villages and stop by the market in each one of them to find local products. Our favorite villages to visit are :
La Couarde
Bois-Plage
Ars
La Flotte
Les Portes
Saint-Martin
Then go to the beach! The best ones are between La Couarde and Bois-Plage, or at Les Portes-en-Ré like Plage du Trousse Chemise. And finally, spend an afternoon trawling through the oyster shacks along the marshes. We've listed our favorite cabanes to stop by for a tasting in the « Where to eat » section!
The salt marshes
Gillardeau oyster shack
Biking around the island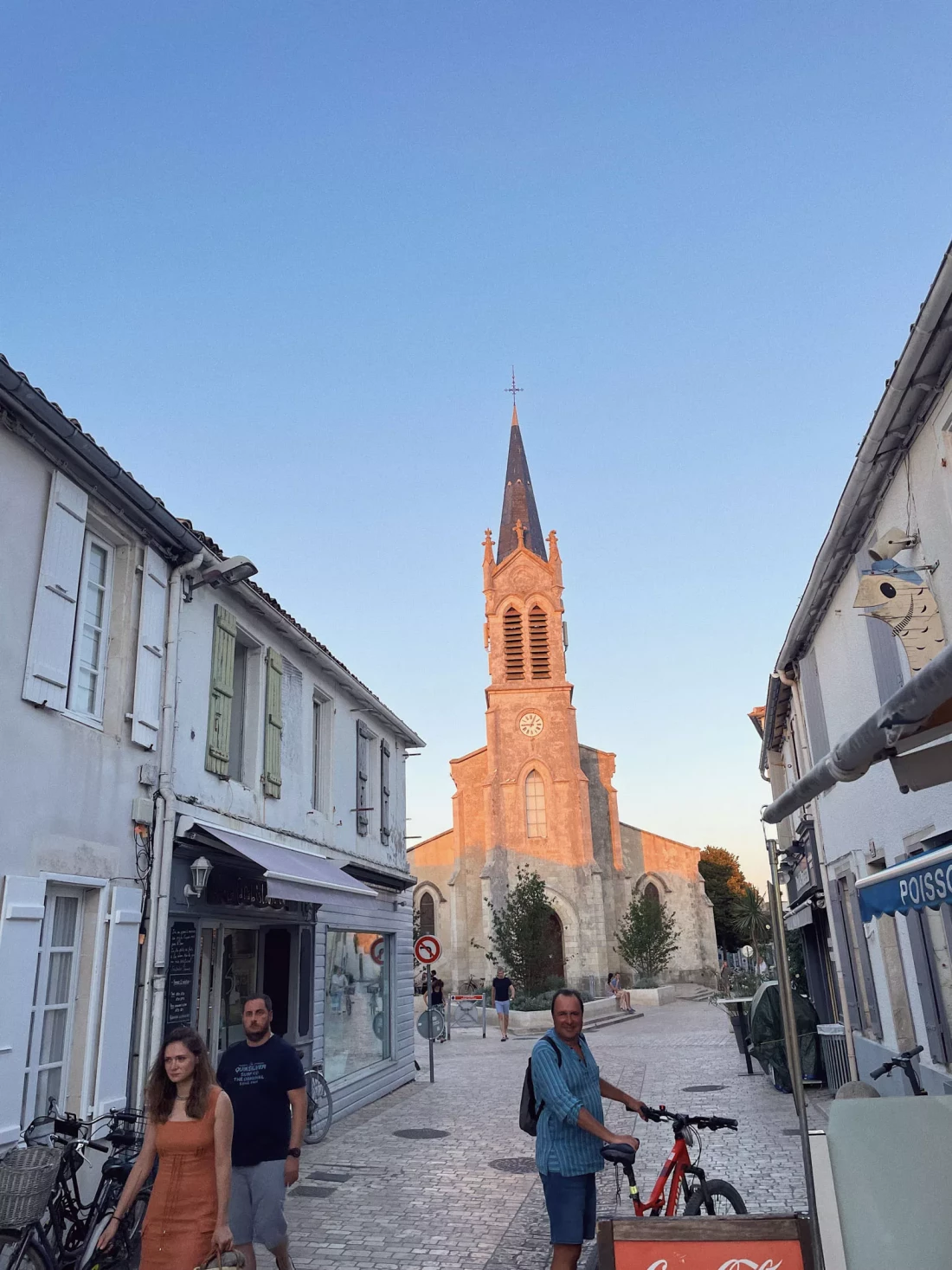 La Couarde village
La Barbue
La Barbue
La Tour du Sénéchal
La Tour du Sénéchal
Cabane de l'Huitre du Saunier
Ré Ostréa
For dinner, we love La Cabine de Bain: a very nice little restaurant with a great vibe in the center of La Couarde. They have a small menu (which is a good sign) with only good things. And the place is so pretty! Located in a tiny little street with a view over the church and white houses.
Le Bistrot du Marin on the port of Saint-Marin: They have a larger menu but each time we go there for the Côte de Boeuf. The quality is excellent and the setting is idyllic, with a view on the sailing boats of the port.
La Cible : a bar/restaurant on the beach of Saint-Martin at the seaside. Very beautiful setting too and we've heard the food is great. We didn't get the chance to go this time but it's on our list for the next :)
Also on our list for next time : Chez Remi in Ars-en-Ré. They are famous for their mussels, grilled over smoking pine needles.
Finally, ice cream lovers, do not miss La Martinière on the quay in Saint-Martin. A true institution on the island, they're famous for their many different flavors, from the good old classics to more experimental ones like… oyster.
La Cabine de Bain
La Cabine de Bain
La Martinière
Le Bistrot du Marin
Where to shop
Holiday : a small store in Ars with very nice clothes and accessories, they offers a great selection of nice vacation brands.
Côté Jardin : if you like hunting for local treasures you'll love this second hand shop/brocante for home decoration.
Another great stop for decoration and accessories is Le Caïman Pâmé in Ars.
But the best place to buy local products and delicacies is simply the market of each small village 🤍