Hello, we are Charlotte & Lionel!
As two passionate perfectionists and hungry optimists, we share an appetite for tasty, good-for-all food, travel and life in general.
When we met in 2015, Charlotte was already nuts about granola, perfecting her recipe in her tiny kitchen, batch after batch, to create the perfect blend of healthy delicacies.

After trying Charlotte's granola recipe, Lionel had a revelation. "Not only did I have the conviction that from that day on, everyday will be a good (breakfast) day but I also wanted to share this special feeling with everyone."

A few months later, we started traveling together and discovered granola in all its forms. We were amazed by the rich and beautiful combination of colors and tastes, and couldn't help but compare it to mixology. Indeed, as much as mixology, granola is about finding the perfect mix of tasty delights to create a perfectly balanced breakfast.

But Bamboo offers more than just a healthy meal, it's a day-to-day lifestyle, a mood booster that gives us the energy to be our most unique and powerful selves, enjoying every minute of everyday, making every moment special, starting from the morning.
"Bamboo is a mood booster that gives us the energy to be our most unique and powerful selves"
This is what Bamboo is about: turning every morning into a flavorful and inspiring experience. This philosophy is what inspired and motivated us to start our own brand back in Brussels: Bamboo was born. Therefore, we created a logo, bought our first packaging and delivered our first orders. From there, the snowball effect took place...


We moved to a bigger kitchen, and without warning, Bamboo granola was on the shelves of the biggest stores in Belgium. Today, we are proud to say that Bamboo has become so much more than we could ever have imagined: a successful familial business story, surrounded by a committed team of granola lovers.
And the rest is history
2011
After traveling to New York, Charlotte discovered her love for granola.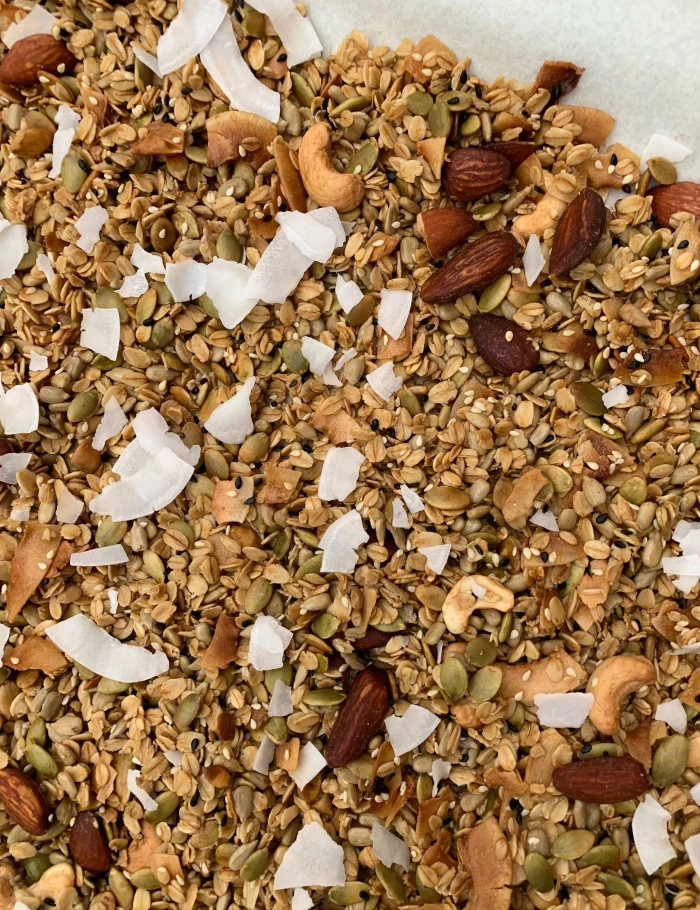 2012
The first granola batch of a long series, inspired by all kinds of granolas Charlotte tried during her trip in NYC.

2015
After one bite of Charlotte's Granola, Lionel decided to start the Bamboo adventure.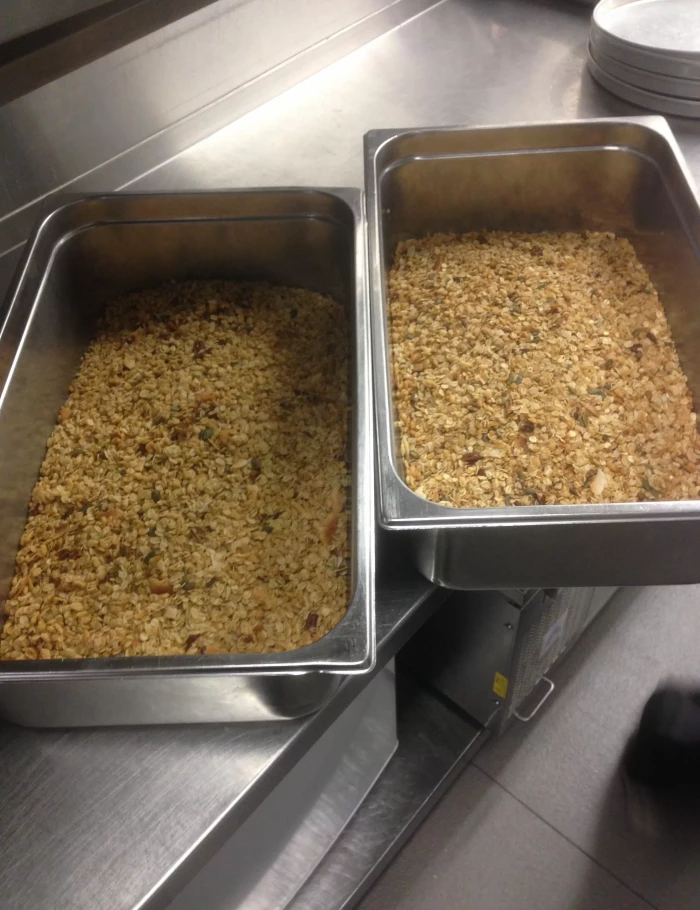 2016
No professional oven? No problem! Charlotte started baking in her brother's restaurant kitchen.
2017
Is there any better place to start a family business than a garage? Ask Lionel's parents!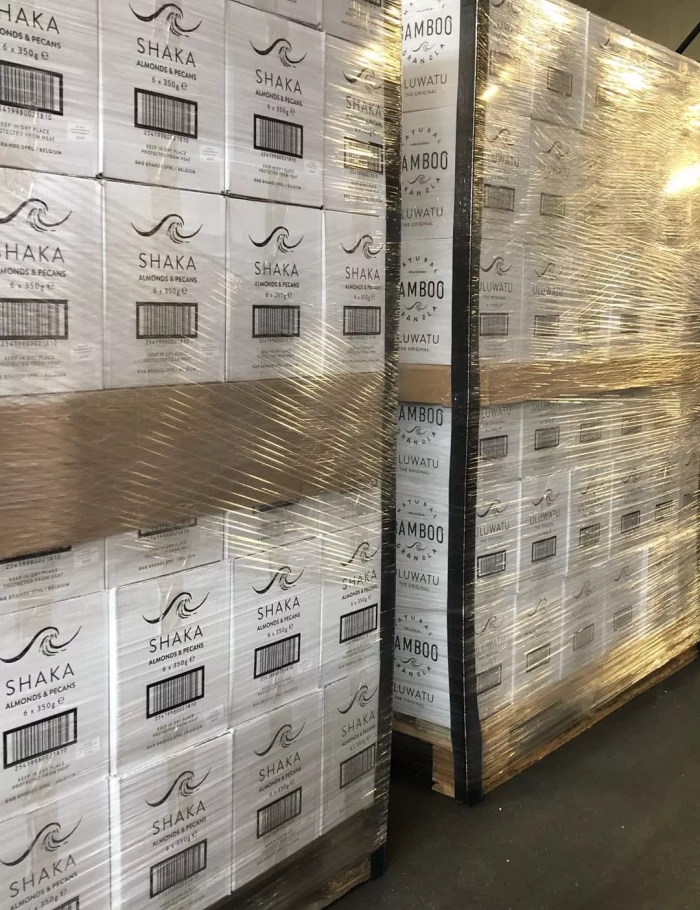 2018
From Lionel's parents garage to our official Bakery: our first order for a nationwide supermarket.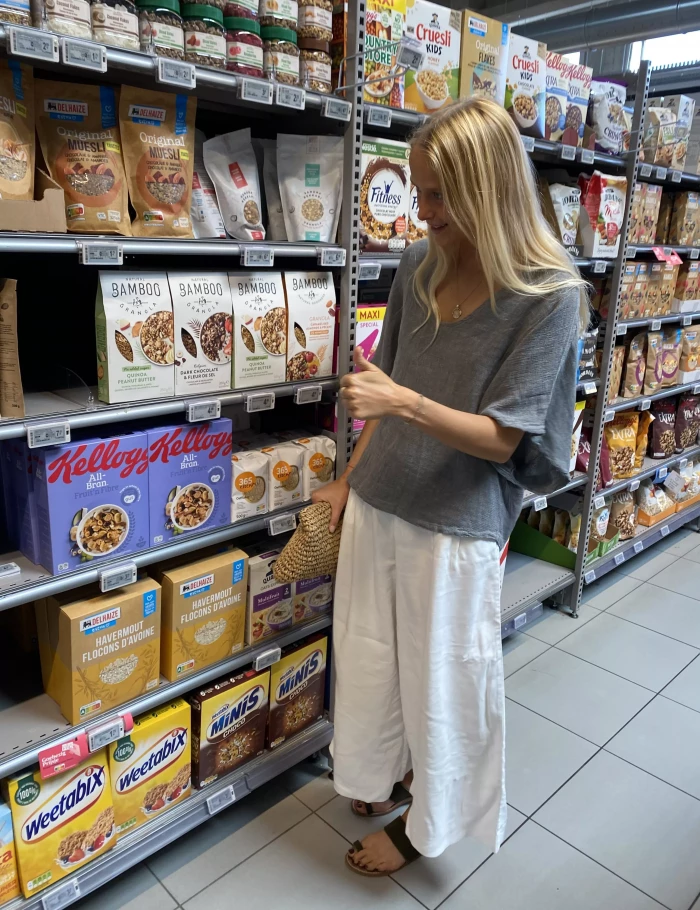 2019-2020
Our French and Dutch neighbors can now enjoy the Bamboo breakfast experience.
2021
We've set foot in Switzerland! But we're hungry for more.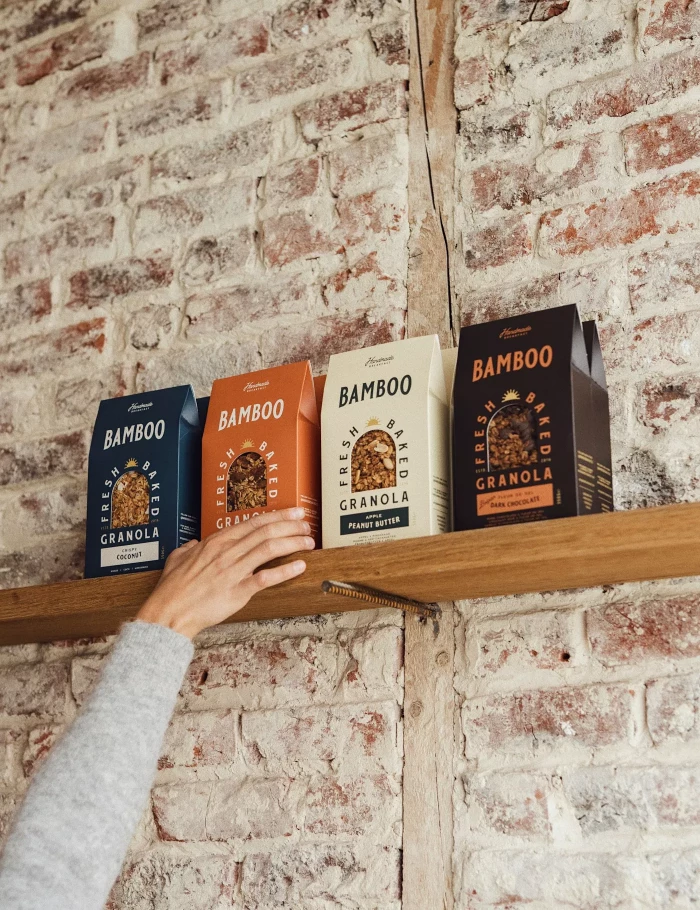 2022
Launch of the new branding, packaging and flavors.
Our values
Authenticity
Since 2016, Bamboo has grown a lot but what we stand for never changed: always staying true to ourselves, both in kitchen and life. We still make our granola in the most artisanal way possible. 100% natural, 100% hand made, baked in small batches every day in our local bakery.
Honesty
We have nothing to hide when it comes to our artisanal production process. Indeed, we do believe that transparency and honesty are the keys to a healthy relationship with our gourmets.
Generosity
Sharing is caring. That's why we are more than happy to share our delicious recipes with you and make your mornings shine.
Inspiration
We take inspiration from every place we go, and every person we meet. Life is an adventure so live it to the fullest and be always grateful to new opportunities.